Keeping Clients Happy - One Cleaning at a Time!
Read what some of our commercial cleaning clients have to say about our quality, professional cleaning services and our reliability. No matter what commercial environment you're in – from smaller operations to mills – you can count on our experienced team to do it right!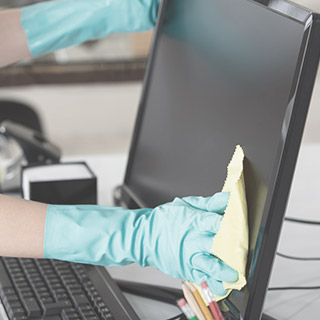 DX Commercial Cleaning has been proven to be an excellent partner! They are dependable, they have pride in their work, very knowledge about the cleaning solutions they use. And from security perspective very trustworthy. Cleaning our facility is no easy task as we are in the Millwrighting and fabrication business. But DX Commercial Cleaning keep on top of all the work, never charges anything extra, just focused on get the work done right Thank you DX, this is just one management task we never have to worry about.
We have contracted DX cleaning Services (James Trites) since Dec 2013 we are extremely pleased with their quality of work, consistency on staff that take care of our property, attention to detail, and they do the things that make place shine !!! They are friendly and respectfully when working around our staff should we be working lateI have been in business for over 30 years, seen many office service contractors... I must say that James and the family operated company are a group you can trust.
I recommend James Trites from DX Cleaning Services for any cleaning projects you may require. We have contracted DX Cleaning over the last 2years for various projects that has entailed janitorial work, stripping and waxing floors, post construction cleaning, and window cleaning. I have found DX Cleaning Services a very reliable and detailed company to work with and their pricing is very competitive.
I have utilized the services of James and his team at DX Services for a couple of years now and have been very pleased with their level of service, quality of work and professionalism.
We have been with DX Commercial Cleaning inc. for 2 years now. They are, capable, reliable, and professional to our security measures. If there were any issues, they were dealt with promptly.
We have been a customer of DX Commercial Cleaning Inc for the last year and highly recommend there services…
We recently switched our 5000 square foot retail store's quarterly floor strip and wax procedure to DX Commercial Cleaning Inc. James and his team just completed their second strip and wax. We now wonder why we waited so long to switch! Our floors have never looked so polished and professional to the point where customers notice. James and his team did an exceptional job and are all around considerate and kind individuals. We definitely recommend them for any type of cleaning service!
DX Commercial Cleaning works around your schedule and is confident that you will be so happy with our services. To receive a quote, contact DX Commercial Cleaning.